Our casa particular is located in one of the main streets of Moron city. It was built in 1914, recently remodeled and everything inside is modern, rooms have a large terrace and a roof terrace that displays part of the urban area of the city
Casa particular independent entrance with terrace located in the cirty center of Moron, modern with spacious rooms, bar and restaurant services 24 hours hot and cold water, room air-conditioned, TV, minibar and terrace, all with separate entrance for the guest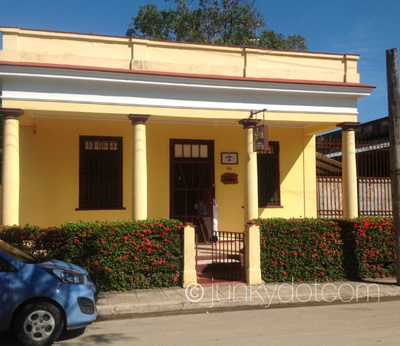 Colonial style casa particular Carmen, built between 1924 and 1928. Detached, all masonry and concrete cover plate, a least depth of about 4 meters high. Style furniture made of precious wood.
Casa Idolka is situated opposite of Casa Maite (which is her sister). It's a lovely, very clean casa with two bedrooms, each of which have a private bathroom. There is a nice, well equiped shared kitchen for the guestst.
The clean casa of Heriberto offers two big air conditioned private rooms, they are in the first floor of the casa particular. The room include a fridge, ceiling fan, furnished, private bathroom with with hot and cold water.
Colonial house with a completely self-contained room, garage and exit toward the street. The room walls are wood veneered. The house possesses a wide terrace, ideal to enjoy the fresh evenings or take the sun.
Casa LinaOz
Bed & breakfast in Moron, located in a quiet area. 1,5 km to the town centre. Double en-suite rooms, with private entrance. Off-road secure car parking. FREE breakfast included. Fluent English, Spanish, and Lithuanian languages spoken.
Rooms: 1
Languages: Spanish, English
Modalities: Quiet
Amenities: Private parking, Private entrance, Garden, Laundry service, Airconditioning, Minibar, Breakfast service, Dinner service, Private bathroom, Bathroom with shower, Extra bed available
Address: Circuito Norte #1, e/ El Carmen, Moron, Ciego de Avila, Cuba
GPS: 22.116624, -78.614753
Phone: +53 53 008002
Email: casalinaoz@gmail.com
Owner: Lina Gutierrez Burgos This Casa is very central located in Morón city, around 70 Km from Cayo Coco in Ciego de Avila province. The casa particular rents one air conditioned bedroom with private bathroom. Magalys and Cristobal are really helpful and friendly people
This casa particular rent three rooms, one Suite of 70 m2 for 5 persons, with pantry, private bathroom with hot and cold pressurized water 24 hour room service, TV, fridge, snack bar, safe securities, 110/220 volt, air conditioning, fan. The other Suite also is 70m2 with the same characteristics, the capacity is 6 people. The third room is a Junior-Suite apartment with the same facilities as the suites and has a swimming pool.
Casa Marel is a villa built in the 50s, located in the city center of Moron a few meters from the main street, money exchange, cadeca and shops. It has 4 spacious rooms for rent, with good comfort and owners are university privacidad. They enjoy dialogues with tourists, dance the salsa and sing for your pleasant stay. Casa particular located two blocks from the Parque Marti, Central Square of Morón, the City of the Rooster. Because of its geographical position, the closest to the Coco and Guillermo Cays, where is the most beautiful beach of Cuba (Playa Pilar) The casa particular from Moraima and Eduardo is one of the casas recommended by Cuba-Junky's readers. Located in Morón which is about 20 minutes from the lovely beaches of Jardines del Rey (Cayo Coco and Cayo Guillermo) They rent an airconditioned room with an ensuite bathroom and kitchen facilities. Great place to stay!
Casa Pino y Agnia
Nestled in the beautiful town of Morón, this Casa Particular has something special as Pino and Agnia will take care of all your needs from the moment you arrive. Newly renovated top to bottom, this immaculate, elegant casa boasts a beautiful, quiet courtyard with a brand new swimming pool, the best cook in Cuba and hilarious local hosts who can point you to all of the local attractions. See the real side of Cuba with your visit to the city of Morón. This beautiful and historical city is the closest to the tourist towns of Cayo Coco and Caya Guillermo. It boasts the beautiful City Museum of Morón which has a beautiful neoclassical facade. Try touring the local cigar factory, sugar cane factory or the city's Central Park. If you're not up for touring of the traditional nature, try making friends with the local, welcoming people who will often invite you in to their homes. Please call or write with any questions and we are happy to accommodate your requests!
Rooms: 3
Modalities: Children in the house, Cozy, Colonial, Hidden gem, Modern, Pets in the house, Romantic, Quiet, Urban Amenities: English speaking, French speaking, Italian speaking, Private parking, Laundry service, Balcony, Breakfast service, Dinner service, TV, Queensize bed, Private bathroom
Address: Narciso Lopez #357, e/ C.M. de Cespedes y Felipe Poey, Morón, Ciego de Avila, Cuba
Email: adalberto.pino@nauta.cu
Tel: +53 52449554
Owners: Joan & John Philp