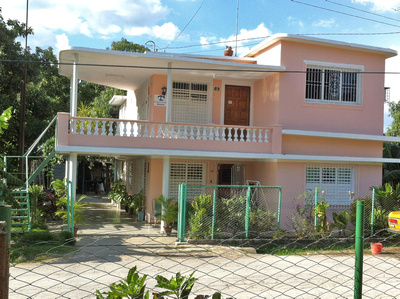 Amancio
Rooms for rent in casa particular that is located in a central location in the town of Amancio, a town south of the province of Las Tunas. It is an independent house with 2 comfortable rooms each with its own air conditioning
I loved this place! The people were great and so helpful. I had been to Las Tunas before but I got a much better feel of the town this time thanks to the owner. The room was fantastic with a huge bathroom and a separate living/dining area.
The modern style casa particular) Hostal Haydee was built in the seventies. This casa particular is located in a residential area, just 5 minutes from downtown Las Tunas where you can find historical and cultural must sees. The casa particular Hostal Haydee has two air conditioned rooms for rent
Karen and Roger is a modern stylish casa particular in Las Tunas, its rooms are spacious, airy, and comfortable. The casa is decorated by an artist who is part of the family, his work enhances each of its walls
This Casa was below average. I stayed in several casas in cuba and this was the only one below average. The room was good with airconditioning.
Reviews Casas in Las Tunas 2013 and older